April 13th, 2018 by Our Webmaster
By Caroline Kee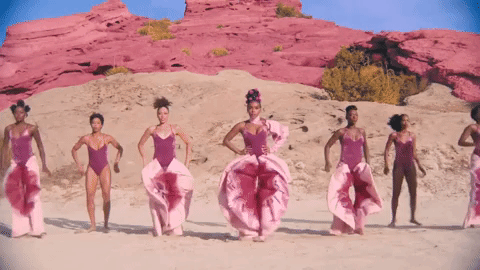 The new video for "PYNK" has vulva pants and now we want a pair, too.
On Tuesday, musician and literal goddess Janelle Monáe dropped the video for her new single "PYNK" and it's taking the internet, and world, by storm.
The single, featuring electro-pop artist Grimes, is part of Monáe's new album "Dirty Computer," which will be released on April 27. If you haven't listened to it yet, put your headphones on and press play. The snappy, Prince-esque melody is definitely the new song of summer.
"Pynk, like the lips around you… maybe / Pynk, like the skin that's under… baby / Pynk, where it's deepest inside… crazy / Pynk beyond forest and thighs," Monáe sings.
The rose-colored video is full of dreamy, super-feminine visuals and unabashed tributes to female anatomy, queerness, and sexual liberation. Monáe is honest and unashamed, and people are loving the whole song's vibe.
In the original description of the video on YouTube, Monáe wrote: ""PYNK is a brash celebration of creation. self love. sexuality. and pussy power! PYNK is the color that unites us all, for pink is the color found in the deepest and darkest …read more
Via:: Health Topics by BuzzFeed
Posted in Uncategorized | No Comments »