April 18th, 2018 by Our Webmaster
By Caroline Kee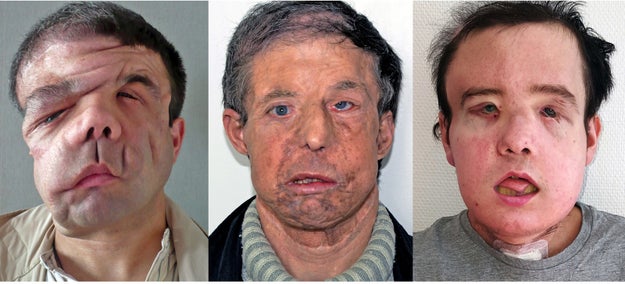 Jérôme Hamon's immune system rejected his first face transplant, and it was removed in 2017. But this January, surgeons were able to perform a second transplant, making medical history.
Jérôme Hamon, a 43-year-old from France, has become the first person in the world to successfully receive two face transplants.
Courtesy HEGP AP-HP
A team of surgeons in France made medical history in January when they successfully performed a second face transplant on a man whose immune system rejected his first face transplant. The surgery was led by Dr. Laurent Lantieri of the Georges Pompidou Hospital AP-HP in Paris.
Hamon, now three months into his recovery, recently went on his first outing since the surgery and is expected to be discharged soon, according to a press release from the hospital.
Face transplant surgery involves the full or partial transplantation of facial tissue from a deceased donor to a person with a severe facial deformity or injury that can't be fixed with conventional plastic surgeries.
Hamon had his first face transplant in 2010 to treat neurofibromatosis, a condition that caused tumors to grow on his face.
<img src="https://img.buzzfeed.com/buzzfeed-static/static/2018-04/18/14/asset/buzzfeed-prod-web-01/sub-buzz-13590-1524075435-16.jpg?resize=625:417" width="625" height="417" alt="Hamon had his first …read more
Via:: Health Topics by BuzzFeed
Posted in Uncategorized | No Comments »