February 13th, 2018 by Our Webmaster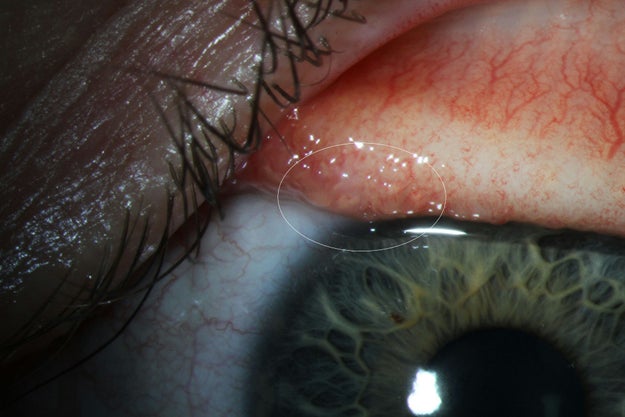 An eyeworm on Abby Beckley's eye, before doctors removed it with a tweezer.
OHSU Ophthalmology
Two summers ago, Oregon resident Abby Beckley found herself standing in front of a mirror on an Alaskan fishing boat, pulling tiny worms out of her eye.
A few months later, scientists reviewing her case were shocked to discover that she had been infected with Thelazia gulosa, a parasite that typically lives and breeds on cow eyeballs.
"It's never been found in humans before," Richard Bradbury, the parasitologist at the CDC who identified the worm, told BuzzFeed News.
Beckley, 28, was working on a salmon boat in Alaska in 2016 when she woke up one day with a pricking feeling in her left eye, like a stray lash lodged under her lid.
When the invisible irritant persisted for a week, Beckley, perplexed, decided to investigate. Standing at the mirror in the galley, she plucked at her eyeball, as if extracting a contact lens.
A freshly harvested eyeworm on Beckley's finger.
Abby Beckley
"I put my fingers in there in kind of a picking motion and I pulled out a worm," Beckley told BuzzFeed News. "I looked at my finger and …read more
Via:: Health Topics by BuzzFeed
Posted in Uncategorized | No Comments »